For some reason, I tend to get a lot of wrong-number SMS messages on my cell phone. For a while, an intermittently hilarious clique of fumble-fingered teenagers in greater Dallas (area code 817) made a point of keeping me (area code 718: you see the problem immediately) in the loop on their goings-ons. A woman in Denver texted me one saturday morning to inform me of the highly unlikely assertion that she was wearing my underwear. (She was embarrassed but gracious when I let her know she'd reached a wrong number.) A different woman in Albany NY (area code 518: same problem again) went so far as to send me a picture of her in her underwear — she sadly did not respond to my highly complimentary wrong-number message.

The last few days, however, have produced what is shaping up to be the undisputed champion: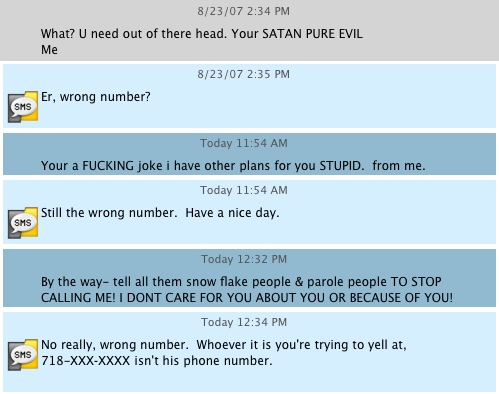 I have to admit that I'm charmed by how this person makes certain to sign every message as being "from me." Further updates as they happen.