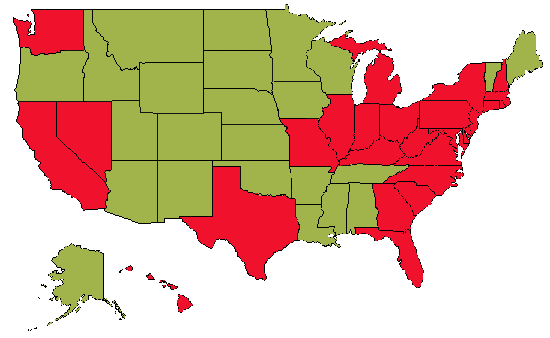 create your own visited states map

Huh, better than I was expecting when I started it. A few unconnected notes:

A couple of them are layover ringers: Missouri was a 45-minute stop at STL on our way back from Hawaii with Miranda in 1994. (Our first real vacation together — I should really get the film scanner fired up and post those.)

Texas was about 90 minutes of unexpected terror and hilarity: my "nonstop" flight from San Diego to Boston in 1996 turned out to have an equipment change at Dallas/FtWorth — had I known that in advance, I probably would not have worn my Church of Euthanasia t-shirt, with its cheery "suicide · abortion · cannibalism · sodomy" logo on the rear. And perhaps I would have worn a hat over the bright green hair. No joke: I had not even gotten off the plane (hell, I hadn't even managed to get my carryon out of the overhead compartment) before people started handing me bible tracts. I maintain a theorectical fondness for the lone star state, but the next time I go back, I think I'd like it to be under more controlled conditions.

Virginia, the Carolinas, and Georgia were all drive-by visits: on two separate occasions, the same group of lunatic college friends and I drove nonstop from western Massachusetts to Florida. The first time was allegedly to accompany Marcel to check out the University of Miami's graduate film program, but really just because it was midwinter in Massachusetts and we were all stir crazy, the second time was for his wedding. I got no feel whatsoever for the places themselves, but I will say that South of the Border at 3am in a misting rain is like being on the set of a great unfilmed David Lynch movie.

The first trip to Florida was a few short months after Hurricane Andrew had flatted half of Miami, and we arrived in Dade County just in time for the start of rush hour on a half-demolished freeway system, after 24 hours of nonstop driving. I've never been so convinced of my own imminent death before or since.