I'm moving out of my apartment in a few weeks, and the less stuff I have to take with me, the better. Please, take my stuff! Drop a line to movingsale2003@memory.blank.org if you're interested in anything.
TWO

IMPORTANT

NOTES

:
When I say "or best offer", I mean it! Pretty much any ofthis that isn't sold by the end of september (possibly but not necessarily excepting the PowerMac) is getting donated to HousingWorks Thrift Store for the tax writeoff. I need this stuff out of my apartment, stat.

MAKE

ME

AN

OFFER

!


The converse side of #1 is that to buy any of this stuff, you must be willing to pick it up in Park Slope, Brooklyn, New York City, by September 28th. I don't have the time to ship any of this, and in most cases it wouldn't be worth it.
So without further ado:
---
Click to jump to description and pictures, or just scroll down…
Computer Equipment:
Audio/Vidual Equipment:

Furniture:
---
Sony 21" Trinitron Stereo
TV

w/ Remote — $125 or best offer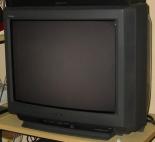 About 5 years old, still in excellent condition. Brilliant picture quality. Three switchable inputs, two in the rear and one in front. Primary input is S/Video, RCA/Composite and RF, the two secondary inputs are both RCA. Stereo speakers, audio output pass-through. Some minor cosmetic damage to the plastic in back which is invisible from any viewing angle.
---
Serta "Spinal Comfort" Mattress, Box Spring and Rolling Stand —$100/obo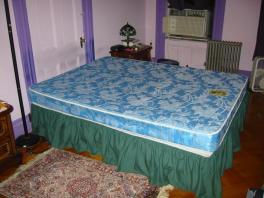 About 5 years old, in great shape. Mattress has always had a pad on it, and looks new. Stand is a basic steel frame with castors. Comes with a green dust ruffle.
---
Complete PowerMac 8600 System w/ monitor, printer, film scanner,
CD

-R, keyboards, mice — $500/obo
PowerMac 8600.
200MHz 604e

CPU

.

128MB

RAM

.

6GB

internal

HD

.
Voodoo 1 3D Card
17" Sony Multiscan monitor.

HP

DeskWriter 520 inkjet printer (black + white, old-style Mac serial interface)
Konica QScan

SCSI

2400dpi slide/negative/film scanner w/ 35mm,Slide and

APS

carriers
External LaCie

SCSI

CD

-R.
Kensington MouseWorks Mouse (4 buttons)
Apple Extended Keyboard and an Apple Adjustable Keyboard (former works perfectly, latter could use some switch cleaning).
Cambridge Sound Works PCWorks external speakers.
Original boxes and manuals for the computer, scanner and keyboards.
MacOS 8.5 installed (will run

OS

9), with the usual plethora of software.
---
Generic
PC

clone in an

AT

case —

FREE

!
AMD

K6/233

CPU

(roughly equivilant to a Pentium

II

)
Shuttle Spacewalker motherboard,

128MB

RAM

.
Adaptec

SCSI

-2

PCI

card.

PCI

sound and video cards. (Matrox and Creative Labs, I think.)

AT

keyboard.
No disk drive currently installed, but I'll throw in one of my random old

IDE

disks if you like.
Was www.blank.org for many years.
---
Half-height 19" rolling equpiment rack w/ integrated
PDU

— $100/obo

Once upon a time, the property of Thinking Machines corporation. 52 inches tall, 24" wide. Built-in castors. Integrated Power Distribution Unit in the base, just in case you have L5-20amp twist-lock power connectors in your house going begging. One integrated shelf. Mounting rails are DEC/Compaq captive-nut type.
---
Matching walnut nightstand tables - $25/obo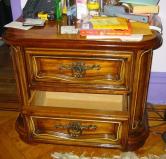 (Note: there are two of these!)
Heavy walnut end-tables, two drawers each.
---
Green round table/stand - $5/obo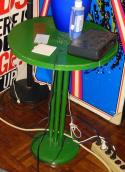 Steel painted livid green. Might be pretty underneath. Might not.
---
3.5' diameter round glass tabletop -
FREE

!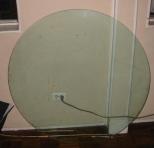 Slightly green-blue tinted. Thick, sturdy. Also heavy.
---
Exabyte 8500 8mm Tape backup unit in external
SCSI

case -

FREE

!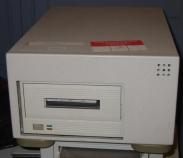 Tape unit may or may not be working.
---
Sony
CD

/Tape/Radio Boombox w/ detachable speakers -

FREE

!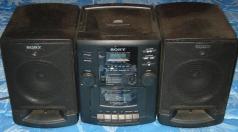 The CD mechanism is a little wonky: it makes these unpleasant scratching sounds. Might be fixable. Radio and tape work fine.
---
Sun 14" Color Monitor -
FREE

!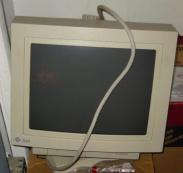 Unknown condition. Sun video connector.
---
APC

Back-

UPS

600 Uninterruptable Power Supply -

FREE

!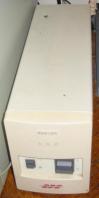 Battery is dead, but APC sells reconditioning kits. Includes communications cable.